Life has gotten in the way and I haven't posted anything new in a while. This is going to stop. I am going to try my best to post new artwork or thoughts about once a week – at least.
It's funny, because when I am busy the thing that I enjoy the most – creating – gets put on the backburner. Why do I do this? Maybe because creating pieces of artwork feels so good and I don't consider it to be "work" that I push it aside to take care of more "responsible" duties.
I must stop this.
I need to create more, I need to share more of what I create with people and I need to post more of my creations on this board.
I have so many things in my head that I want to make – drawings, paintings, books, etc. Either I do this or I don't and believe me, I want to.
So, I sat down and drew and coloured something for the first time in a few days. This owl was inspired by a friend's love of the UK's Little Owl.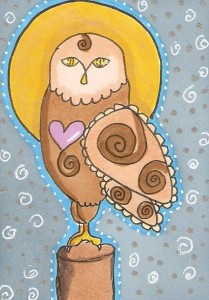 Hand drawn on cardstock with Copic Markers, Gel Pens and iridescent acrylic paints. I love doing drawings in a whimsical style and this owl was no exception.