I have been interested in Celestial themes in artwork for a very long time. I love old woodcuts of the sun and moon, old sky maps, even astronomical instruments.
My artwork has not exhausted the theme – yet. My latest sun and mood drawing shows the sun and moon entwined.
In some mythologies, the sun and moon are brother and sister (in Norse mythology the sun is a goddess, Sunna. The moon is her brother Mani.) In other mythologies, like Greek, the sun is masculine (and called Helios) and the moon is feminine (and named Seléne).
In my artwork, the sun and moon are mostly androgynous. Not always, but mostly. I like bright colours so the sun is shown in bright oranges and yellows with a hint of red. The moon is shown in cooler blues and silvers.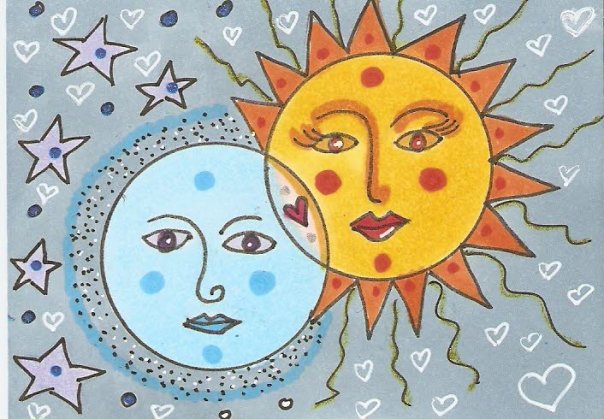 Anyway, this is a sketch I have come up with for the sun and moon. It's done on lightweight cardstock and with Copic Markers, white gel pen and metallic pens.