About Artistic Fox
I am a wife, artist, cat mom, writer, creator, dreamer, pagan, lover, best friend and an American living in the United Kingdom.  My name is Doreen Taylor.
I like good books, good music, good movies and good conversations.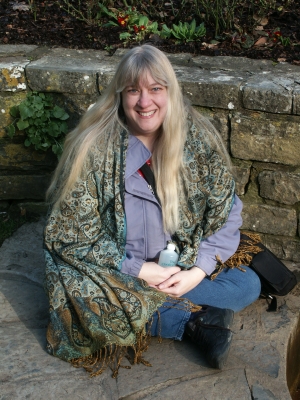 I believe in kindness, being creative, laughter and honesty. I believe I'll have a glass of wine!
Life is not something you just let slip by – you take every moment you can and live it to its fullest!
I have been making things for as long as I can remember. When I was a child I was surrounded by quilting racks, yarn and other arts and crafts supplies. My mother was a fantastic quilter and she always encouraged me to paint, draw and sew. I was doing crewel work by the age of 8!
I bought my first rubber stamp in 1980 and that changed my life! I learned how to manipulate other images (believe me, this was in the days before computers were widely used!) and a whole new world opened up to me.
I dabbled on and off for 15 years with rubber stamps and gave it up for a while as other things became more important. Unfortunately, creating got swept under the rug.
About 7 years ago I started to make artwork again. I now do collages, altered books, Artists Trading Cards, sketches, jewellery, shrines and decorated boxes. I have been doing this for several years. I am also interested in photography.
My husband Kevin is also crafty and he makes corn dollies, turns wood and makes origami figures – as well as being the best bread maker there is!
At this point in my life I have decided to start making art pieces to describe my life, to honour deity, and to give to friends and loved ones.
I am not sure where this journey is going to take me right now. I am just going with the flow to discover what I like to do most This might include selling some pieces, or perhaps not. Only time will tell.
This site is dedicated to the foxes who are in my garden every day – they are my creative inspiration!